Splash Paints, Semi Gloss Black SPM-012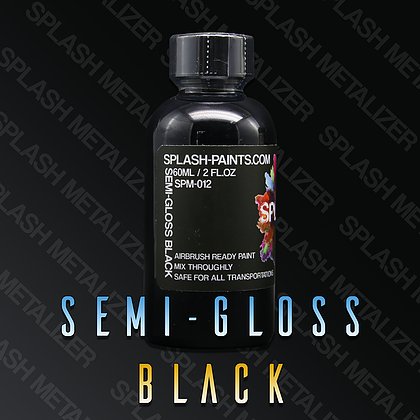 Splash Paints, Semi Gloss Black SPM-012
Splash, Semi Gloss Black
1X Semi Gloss Black 60ml
For best results, do not clear coat
Splash, Semi Gloss Back
This product contains the following items:
1X Semi Gloss Back 60ml
Spray multiple light coats at 20-30 PSI with a 0.2mm needle and nozzle or larger.
Can be used as chameleon base, metalizer base, black base for colours, or semi gloss black finish.
For best results, do not clear coat
SHAKE WELL!
Great for black trims, window trims, and more!
This Single Stage Gloss Black base works great for chrome and metalizer paints. Apply over gloss black paint with very thin layers only!
Enamel single stage paint has great adhesion without primer.
Works well for photo-etch parts without primer.
This Paint must be AIR DRIED. DO NOT CURE IN DEHYDRATOR OR WITH A HAIRDRYER.
SUPREME LACQUER HARMFUL. WEAR RESPIRATOR & GLOVES AT ALL TIMES
KEEP OUT OF CHILDREN'S REACH
FLAMMABLE, KEEP AWAY FROM HEAT SOURCES
MADE IN PORTLAND U.S.A